Coldstream Clear Distillery open every day!  
MASTODON RIDGE PARK & SHOP CLOSED FOR THE WINTER SEASON

Do your Christmas shopping with us! Drop by for a great selection of Nova Scotia and Atlantic Canadian products. Gift Baskets for personal and business gifts! Ready-made, or choose your own products and we'll assemble them for you. Atlantic Canadian food and beverages! Tea, coffee, maple syrup, honey, candy, and much more, including a selection of clothing, pottery and handcrafted items. Lots of great stocking stuffers! Get ready for the holidays with jams, sauces and seasonings. You'll find some of Nova Scotia's finest products at the Local Shop & Market. Be sure to stop in at the Winding River Art Gallery and Coldstream Clear Distillery!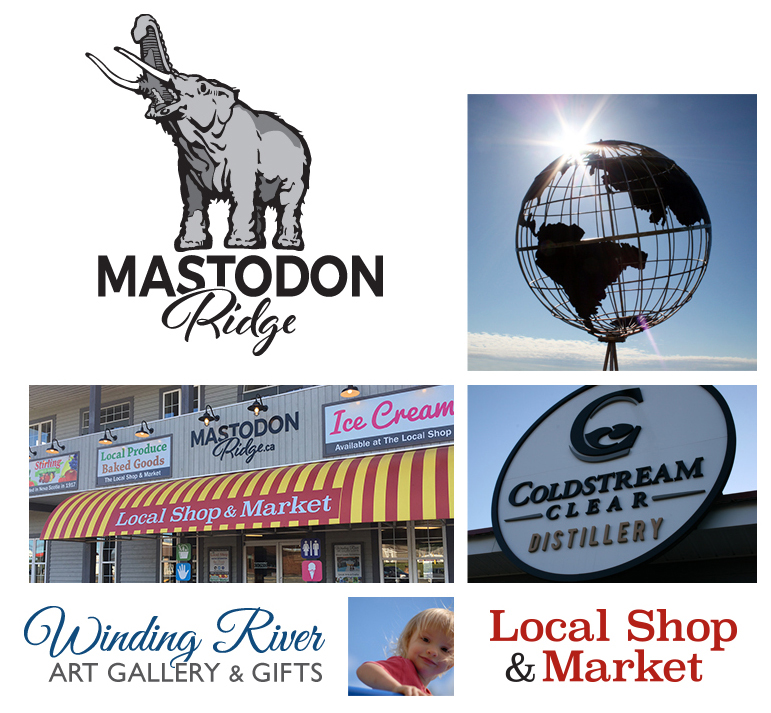 Did you know?
Mastodon bones were discovered in 1991 at a gypsum quarry near Milford, NS.
In 1937, Stewiacke
was recognized as the halfway point between the Equator and the North Pole!
Nova Scotia
has over 6,000 km of coastline and is known as Canada's Ocean Playground!
Did You Know?
Our Mastodon replica is 14 feet tall, 22 feet long and one of the biggest statues in the province!
The Bay of Fundy
has the highest tides in the world! It takes 6 hours, 13 minutes for tides to go from high to low.
Mastodon Ridge
overlooks the Shubenacadie and Stewiacke rivers, 2 rivers of great beauty and historical significance that are fed by the Bay of Fundy.